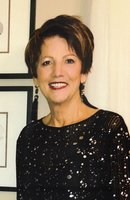 Josette Cossette
Nous avons le regret d'annoncer le décès de Josette Cossette (née Gosselin) à l'âge de 67 ans, le vendredi 5 mars 2021. Elle était la tendre épouse de Denis de Hearst et la mère aimante et dévouée de 3 enfants: Éric (Shelley) de Toronto, Valérie (Jocelyn) de Hearst et Sophie (Pierre) de Hearst. Elle sera aussi énormément manquée par 6 petits-enfants: Isaak, Emma, Cédrik, Noah, Charlie et Nikolas ainsi que 5 soeurs: Ginette (feu Réjean) de Kapuskasing, Jocelyne, Francine (Sandra) de Welland, Murielle (Richard) d'Embrun, Sylvie de Hearst, Gretta de Welland; 4 frères: Josaphat (Eva) de Mattice, Germain (Diane), Rémi (feue Thérèse) de Hearst et Gaëtan (Ginette) d'Embrun. Elle laisse également derrière elle ses belles-soeurs et beaux-frères ainsi que de nombreux neveux, nièces, parents et amis (es). Elle fut précédée dans la mort par ses parents, Joseph et Rita (née Breton), son frère Ronald ainsi que ses beaux-parents Éliane et André Cossette.
On se souvient de Josette comme d'une femme toujours très dévouée envers sa famille et son entourage. Épouse, mère et grand-mère attentionnée, elle avait le bien-être de son monde à coeur et était toujours présente et disponible. Sa joie de vivre, son humour et sa générosité ne sont que quelques-unes de ses nombreuses qualités. Très sociable et amicale, elle aimait rencontrer des gens et s'intéressait à leur parcours de vie. Avant de profiter d'une retraite bien méritée, elle a longtemps travaillé comme secrétaire au sein de l'équipe de la Co-op de Hearst ainsi que chez Ideal Tire. Josette aimait la chaleur et pour de nombreuses années, profitait du soleil chaud du Texas, pendant les mois d'hiver, aux côtés de Denis et de plusieurs ami.e.s. Elle était aussi très bonne cuisinière et s'assurait toujours de ne rien manquer. Au cours des dernières années, Josette a su faire face à la maladie avec une force et un courage exemplaires et elle restera à jamais une source d'inspiration pour chacun de nous. Elle laisse une trace profonde dans le coeur et la mémoire de tous ceux et celles qui l'ont connue et aimée.
La famille apprécierait les dons envers la Fondation de l'Hôpital Notre-Dame de Hearst. Pour faire un don, cliquez ici.
Les funérailles auront lieu le mardi 9 mars 2021 à 11h en la Cathédrale Notre-Dame de l'Assomption avec le Père Duolomane Okamba comme célébrant.
Le nombre maximum en la Cathédrale Notre-Dame de l'Assomption est de 100 personnes et aucun rassemblement extérieur n'est permis. Toute personne présente doit porter un masque approprié en tout temps et respecter la distanciation physique de deux mètres pour les gens qui ne font pas partie d'un même ménage.
We regret to announce the death of Josette Cossette (born Gosselin) at the age of 67 on Friday, March 5th, 2021. She was the loving wife of Denis from Hearst and devoted mother to her 3 children Éric (Shelley) from Toronto, Valérie (Jocelyn) and Sophie (Pierre) from Hearst. She will also be missed by 6 grandchildren Issak, Emma, Cédrik, Noah, Charlie and Nikolas as well as 5 sisters: Ginette (late Réjean) from Kapuskasing, Jocelyne, Francine (Sandra) from Welland, Murielle (Richard) from Embrun, Sylvie from Hearst, Gretta from Welland; 4 brothers: Josaphat (Eva) from Mattice, Germain (Diane), Rémi (late Thérèse) from Hearst and Gaëtan (Ginette) from Embrun. She also leaves behind her sisters-in-law, brothers-in-law as well as many nieces, nephews, family and friends. She was predeceased by her parents, Joseph and Rita (born Breton), her brother Ronald and her parents-in-law Éliane and André Cossette.
Josette was a lady who was always devoted to her family and entourage. She was a caring wife, mother and grandmother who always held the well-being of her loved ones to heart and was always present and available. Her zest for life, her sense of humour and generosity, we're just a few of her many qualities. She was very outgoing, friendly and liked to meet people and was always interested in their life path. Before enjoying a well deserved retirement, she worked as a secretary for many years at the Co-op in Hearst as well as Ideal Tire. Josette loved the sun and for many years, in the winter months, she enjoyed the warm weather in Texas with her husband Denis and friends by her side. She was also a great cook and always made sure they had plenty. In the most recent years, she faced sickness with remarkable strength and courage and will forever be a great inspiration to us all. She leaves a great imprint in the heart and memory of all who knew and loved her.
The family would appreciate donations to the Notre-Dame Hospital Foundation in Hearst. To make a donation, click here.
The funeral will be held on Tuesday, March 9th, 2021 at 11 a.m. at the Notre-Dame de l'Assomption Cathedral in Hearst with Father Duolomane Okamba officiating.
The maximum number of people allowed at the Notre-Dame de l'Assomption Cathedral is 100, and no gathering is permitted outside. Every person present must wear a suitable mask at all times, including physical distancing of two metres for people who are not from the same household.
We thank you for your understanding and cooperation during this time.