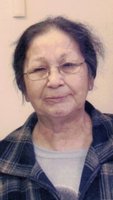 Barbara Shaganash
It is with great sadness that the family announce the death of Barbara Shaganash, on Saturday, April 17th 2021 at her residence in Constance Lake, Ontario at 75 years of age. She was the beloved sister of Hilda and her brother Hank (Kathy) from Constance Lake, as well as her two dependent nephews who lived with her: Merle and Hank Jr. She will also be greatly missed by many nieces and nephews, great-nieces and great-nephews. Barbara was predeceased by her parents: Joseph and Agnes Shaganash and her siblings: Johnny, Molly, Ivy, Angus, Ross, Charles, Mike, Emma, Charlotte and Margaret's daughter Audrey.
Barbara was raised in the Hornepayne area and spend most of her years in Camp 6 with her parents and siblings. She enjoyed trapping, family gatherings, going on the land and taking her nieces and nephews swimming along Hwy 640 and mostly playing bingo.
A private family gathering will be held at Fournier Funeral Services in Hearst and interment will be taking place at the Hornepayne Cemetery at a later date. We thank you for keeping the family in your thoughts and prayers during this difficult time.
C'est avec tristesse que nous annonçons le décès le Barbara Shaganash, le samedi 17 avril 2021 à sa résidence à Constance Lake à l'âge de 75 ans. Elle était la soeur bien-aimée de Hilda et son frère Hank (Kathy) et 2 neveux qui habitait avec elle, Merle et Hank Jr. Elle laisse également dans le deuil plusieurs neveux et nièces ainsi que plusieurs petits-neveux et petites-nièces. Elle fut précédée dans la mort par ses parents: Agnes et Joseph Shaganash ainsi que ses frères et soeurs: Johnny, Molly, Ivy, Angus, Ross, Charles, Mike, Emma, Charlotte, et la fille de Margaret: Audrey.
Barabara a grandi dans la région d'Hornepayne et a passé plusieurs années au camp 6 avec sa famille. Elle aimait la trappe, les réunions de famille, aller sur la terre et apporter ses neveux et nièces se baigner sur le long de l'autoroute 640 ainsi que jouer au bingo.
Un rassemblement privé aura lieu aux Services Funéraires Fournier à Hearst et l'enterrement aura lieu au cimetière de Hornepayne à une date ultérieure. Nous vous remercions d'accompagner la famille en pensées et prières durant cette dure épreuve.